An interview with poet/activist, Kathy D'Arcy, editor of Autonomy, a women-led anthology on taking back the body, published by New Binary Press (March 20th). The collection includes writing by Nuala Ni Dhomhnaill and Sinead Gleeson, amongst many others, and makes a literary contribution to raising awareness in the campaign to Repeal the 8th Amendment. Profits from the sale of the book go towards funding those involved in reproductive healthcare for women, including safe, legal abortion.
Editor Kathy D'Arcy originally trained as a medical doctor. She is completing a Creative Writing PhD at University College Cork, where she teaches with the Women's Studies and Creative Writing Departments.
Fiona O'Connor is a writer and Visiting Lecturer at University of Westminster. Her one act play, she had a ticket in mind, has its London launch at Etcetera Theatre, Camden, April 5th – 7th. Excerpts from the play are included in Autonomy.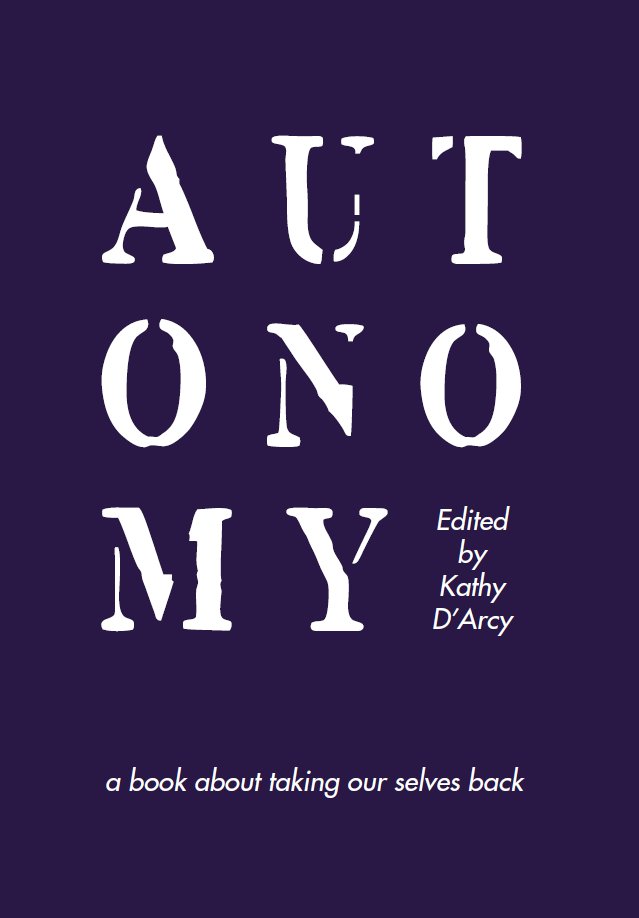 Fiona O'Connor: Kathy, can you speak about the origins of this project?
Kathy D'Arcy: I wanted to do something unusual and creative to raise funds for the campaign. And because I love reading creative writing, and because I think stories have a lot more power to engage people than academic work, or even sometimes facts, or the kind of angry tones that can happen in a debate like this, I wanted to gather a collection of writings exploring what it means to have bodily autonomy. I wanted to show how this is a complex concept, and so through all these stories and all of these experiences we can reach an understanding of the importance of this idea.
FO'C: How did you go about gathering these narratives?
KD'A: This had to be a collaborative project. I believe very strongly in activist collaboration. And particularly because this is a people-powered campaign – this fight is people powered, people on the ground, their experiences, their stories. It's all about collaboration. So all I did really was put the word out – I just kept tweeting about it – making a call for stories, wanting anyone who wanted to, to get in touch – they didn't have to be established writers or experts or anything like that. The book now is exactly what I wanted: it's a very diverse collection of perspectives with many different genres, from memoir to poetry, to academic writing, to green plays, dramatic scripts, and people from all different levels and kinds of experience. Some are established writers and some are just beginning to write, some are bloggers, some people have never written creatively before and some people are well-established academics. So it's a huge range. The launch too is a collaborative effort, taken over by contributors, and going really well throughout the country.
FO'C: It strikes me that this is literature moving forward in a new way. Do you feel the advance of the indie publishing industry, powered by technological developments, contributed to this people-powered initiative?
KD'A: I think we are very lucky to have so many new dynamic small presses. And I'm particularly lucky that we have New Binary Press here in Cork – only a few years old and run by James O'Sullivan, a lecturer in Digital Humanities at University College, Cork. James feels very strongly about opening out the range of publications available. He publishes very interesting, challenging books. And books like mine that I would never have been able to pitch to any kind of mainstream or commercial publisher, where the focus is going to be on profit. The importance of small literary presses like this can't be overestimated in getting a more diverse voice out there. When we only have lots of large, commercially driven presses the voice gets very homogenous and monolithic. And so many perspectives and stories get left behind, which is so bad for literature, and culture. So it was fantastic that New Binary Press said yes, and is behind this project, willing to publish this book and to be part of the campaign.
FO'C: The Autonomy project seems to have been accomplished at a fast pace – from idea to the book in hand – just a few months. Is that something also more available to the small press industry? That they can get in behind an initiative like this and then produce something, which is so packed, almost instantaneously, as this seems to have been, to create an intervention in a political campaign?
KD'A: Well, I know from friends who work in some of the larger presses that things tend to be planned for years in advance. There is much less scope for spontaneity. New Binary Press moves from project to project, across disciplines and sectionalities. I think we have in Ireland a history of vibrant small presses that will explore issues larger presses wouldn't touch. Controversial issues around power and class – and gender and equality. I think there's often something subversive about smaller presses. And that's so important.
FO'C: Then there's also the role of this publication, not only in feeding into the debate, the discourse on feminism, women's bodily autonomy, but also actually being part of the effort to raise funds, as well as awareness, something novel perhaps in relation to small, literary presses?
KD'A : Well, I think it's something I'm seeing happen more and more – I'm thinking of work like Terry O'Brien's anthology, Look at the Stars, a collection of work by contemporary writers about homelessness. That collection raised over £20,000 for the Simon Community charity working with rough sleepers in Ireland. For me it's a no brainer – specifically on these kinds of issues, which people feel passionate about – they want to read stories and be involved in thinking these things through. And if they can do that, and contribute to the cause at the same time, and contribute to keeping small presses alive, which is after all, contributing to a richer literature for us all, I feel it's one of the most useful things you can do with regard to publishing, because of the social value of publishing. So yes, contemporary literature can be a vital force for change.
The London launch of Autonomy takes place April 7th at Etcetera Theatre, Camden following performance of she had a ticket in mind.
Click here to pre-order Autonomy from New Binary Press.